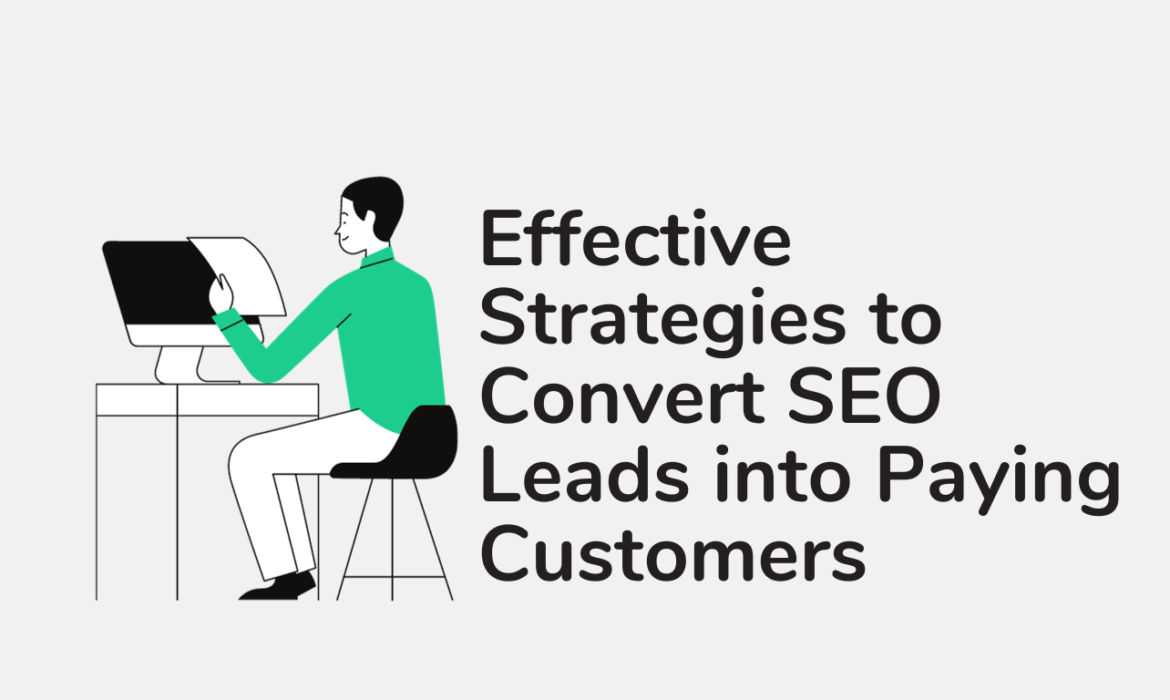 Search engine optimization (SEO) is a pivotal factor in driving potential customers towards businesses. However, it's crucial to recognize that generating leads through SEO is merely the initial phase of a larger process. The ultimate aim is to successfully convert SEO leads into paying customers, thereby solidifying business growth.
This article aims to delve into a comprehensive range of effective strategies that businesses can employ to optimize their lead conversion rates and successfully transform SEO-generated leads into valuable paying customers.
By implementing and leveraging these strategies, businesses can maximize their return on investment (ROI) from SEO initiatives, fostering long-term success and prosperity. Join us as we explore these powerful strategies and uncover the key tactics that will propel your business toward converting SEO leads into loyal customers.
Understand Your Target Audience:
To convert SEO leads into paying customers, it's essential to have a deep understanding of your target audience. Identify their interests, pain points, demographics, and purchasing behavior. By understanding their needs, you can tailor your marketing messages and offerings to resonate with them effectively.
Create High-Quality, Relevant Content:
Content is the king and so the foundation of any successful SEO strategy. Develop high-quality, relevant content that addresses the pain points and questions of your target audience. Enhance your content visibility in search engine results by strategically optimizing it with relevant keywords. Boost your online presence. Provide valuable information, solutions, and insights that establish your business as an industry authority and build trust with your audience.
Implement Effective Call-to-Actions (CTAs):
A well-crafted call-to-action (CTA) can significantly impact lead conversion rates. Place compelling CTAs strategically throughout your website, blog posts, and landing pages. Use actionable language, such as "Get Started," "Buy Now," or "Download Now," to encourage visitors to take the desired action. Make sure your CTAs are visually appealing, stand out, and are easy to locate.
Personalize User Experience:
Tailoring the user experience based on individual preferences and behavior can enhance lead conversion rates. Leverage data and analytics to segment your leads and personalize their experience on your website. Provide relevant product recommendations, personalized offers, and targeted messaging based on their browsing history and previous interactions. This personal touch can significantly increase the likelihood of converting leads into paying customers.
Nurture Leads with Email Marketing:
Email marketing remains a powerful tool for lead nurturing. Develop an email marketing strategy that provides valuable content, educates your leads, and builds a relationship with them over time. Send personalized, targeted emails based on their interests and actions. Use email automation to send timely messages, such as welcome emails, abandoned cart reminders, and exclusive offers, to keep your leads engaged and encourage them to make a purchase.
Buy Exclusive & Real time SEO and Website Leads
Exclusive Access to Top-Tier SEO And Website Leads! We Promise to Replace Any Subpar Leads – Assured Conversion-Ready SEO Leads Available for Purchase!
Contact Us Now
Offer Incentives and Discounts:
Incentives and discounts can be effective in converting SEO leads into paying customers. Provide exclusive offers, discounts, or free trials to incentivize leads to take the next step. Limited-time promotions and scarcity tactics can create a sense of urgency, encouraging leads to make a purchase sooner rather than later. Monitor the success of different incentives and adjust your strategies accordingly to maximize conversions.
Leverage Social Proof:
Social proof is a powerful psychological phenomenon that can influence purchasing decisions. Display customer testimonials, reviews, case studies, and social media mentions prominently on your website. Highlight success stories and showcase how your products or services have benefited others. This social proof builds trust and credibility, assuring leads that they are making the right choice by purchasing from your business.
Optimize for Mobile Devices:
With the significant increase in mobile device usage, optimizing your website and landing pages for mobile is crucial. Ensure that your website is mobile-friendly, loads quickly, and provides a seamless user experience across different devices. A responsive design and intuitive navigation are essential for capturing and converting leads who access your website from smartphones and tablets.
To convert SEO leads into paying customers, it requires a strategic approach and a deep understanding of your target audience. By creating high-quality content, implementing effective CTAs, personalizing the user experience, nurturing leads with email marketing, offering incentives, leveraging social proof, and optimizing for mobile, businesses can significantly increase their chances of converting leads into loyal paying customers. Implement these strategies consistently, monitor their effectiveness, and make adjustments based on data and feedback to optimize your lead conversion process.
Additional Topics: