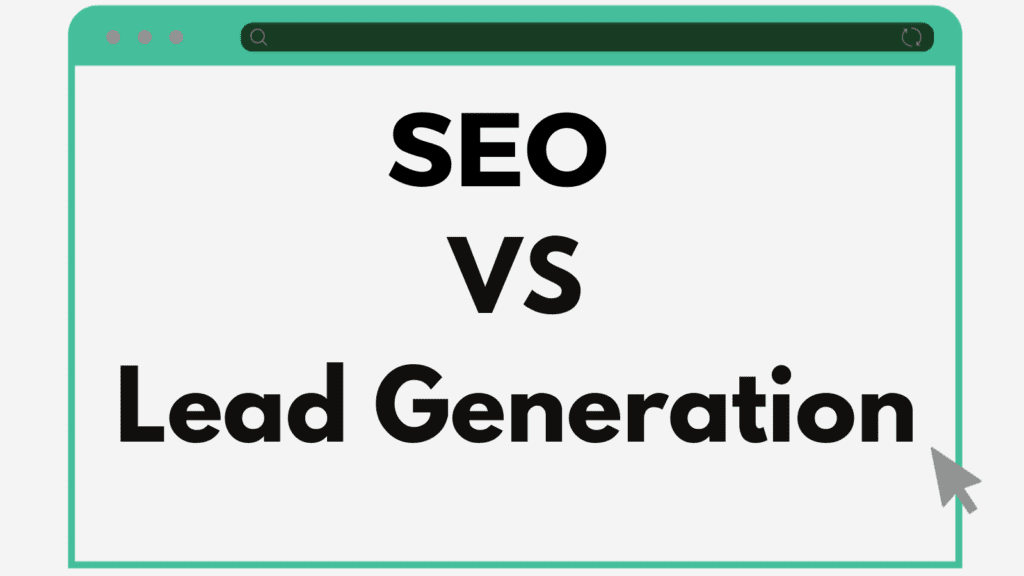 In the digital marketing landscape, both SEO (Search Engine Optimization) and lead generation play crucial roles in driving online success. While SEO focuses on optimizing websites to improve organic search visibility, lead generation aims to capture and convert potential customers. This article will provide an in-depth analysis and comparison of SEO vs lead generation, highlighting their differences, benefits, and how they can work together to enhance online marketing strategies.
I. Understanding SEO and Lead Generation: Definitions and Objectives
Search Engine Optimization (SEO) is the practice of optimizing a website to improve its visibility in search engine results pages (SERPs). The primary goal of SEO is to increase organic traffic and attract targeted visitors. On the other hand, lead generation is the process of capturing potential customers' contact information and nurturing them into qualified leads. The objective of lead generation is to convert leads into customers and drive business growth.
II. The Synergy Between SEO and Lead Generation
While SEO and lead generation are distinct strategies, they are closely intertwined and can complement each other. SEO contributes to lead generation success by improving website visibility and attracting organic traffic. When a website ranks higher in search results, it receives more visibility, resulting in increased exposure to potential leads. By targeting relevant keywords and optimizing website content, SEO helps attract visitors who are actively searching for products or services related to the business.
III. SEO vs Lead Generation: Key Differences and Overlapping Strategies
While SEO and lead generation share the common goal of driving website traffic and conversions, they differ in their primary focus. SEO primarily focuses on website optimization, content creation, and link building to improve organic search visibility. Lead generation, on the other hand, focuses on capturing contact information through various tactics such as lead magnets, landing pages, and forms.
Despite their differences, SEO and lead generation strategies often overlap. For example, both require a deep understanding of the target audience and keyword research. SEO requires keyword research to optimize website content, while lead generation relies on keyword research to create targeted content that resonates with potential leads.
IV. The Benefits of SEO for Lead Generation
Implementing SEO strategies provides several benefits for lead generation efforts. Firstly, SEO enhances website visibility, helping businesses reach a wider audience. Higher visibility leads to increased organic traffic, which means more potential leads visiting the website. Secondly, SEO helps build trust and credibility. Websites that rank higher in search results are often perceived as more trustworthy and authoritative, making visitors more likely to provide their contact information. Lastly, SEO provides long-term benefits. Once a website achieves higher organic rankings, it can continue to attract leads without relying heavily on paid advertising.
V. The Role of Lead Generation Tactics in Maximizing SEO Efforts
Lead generation tactics play a crucial role in maximizing the effectiveness of SEO strategies. Creating targeted content that addresses the pain points and interests of potential leads improves the chances of capturing their attention and contact information. Implementing effective lead capture forms and landing pages ensures a seamless user experience and encourages visitors to take action. Additionally, nurturing leads through personalized email marketing campaigns helps move them further down the sales funnel, increasing the likelihood of conversion.
VI. Integrating SEO and Lead Generation: Best Practices
To maximize results, businesses should integrate SEO and lead generation strategies. Conducting keyword research for both SEO and lead generation ensures that content is optimized for search engines while also resonating with potential leads. Optimizing landing pages and calls-to-action (CTAs) for conversions helps maximize lead generation efforts. Tracking and analyzing data allows businesses to refine their strategies and make data-driven decisions.
VII. Success Metrics and Case Studies
Measuring the success of SEO and lead generation efforts is crucial. Key metrics to consider include the percentage of website traffic generated through organic search, conversion rates achieved through SEO-driven traffic versus lead generation efforts, and the cost per lead for SEO strategies compared to traditional lead generation methods. Case studies showcasing the successful integration of SEO and lead generation provide real-life examples of how businesses have achieved remarkable results.
VIII. Choosing the Right Approach: Prioritizing SEO or Lead Generation
When deciding where to allocate resources, businesses should consider various factors. The decision should align with their goals, target audience, and available resources. While both SEO and lead generation are valuable, finding the right balance is important. Some businesses may prioritize SEO initially to build a strong online presence, while others may focus more on lead generation to drive immediate conversions. A balanced approach that integrates both strategies can yield the best long-term results.
SEO and lead generation are essential components of a successful online marketing strategy. While SEO focuses on improving website visibility and organic traffic, lead generation aims to capture potential customers' contact information and convert them into qualified leads. By understanding the differences and benefits of each strategy and integrating them effectively, businesses can enhance their online presence, attract targeted audiences, and achieve sustainable growth and success. Understanding the differences between SEO vs lead generation will help you decide how much time you should invest in both.
Related Statistics
According to a study by HubSpot, businesses that prioritize blogging are 13 times more likely to achieve a positive return on investment (ROI).
Content marketing generates three times as many leads as traditional outbound marketing, as stated by Demand Metric.
Google receives over 63,000 searches per second on any given day, according to Internet Live Stats, highlighting the importance of optimizing content to be found by potential customers.
To maximize results, businesses can follow these steps to integrate SEO and lead generation:
1. Conduct keyword research: Identify relevant keywords and phrases that potential customers might search for to find products or services offered by your business. Use keyword research tools like Google Keyword Planner, SEMrush, or Moz to find popular and relevant keywords.
2. Optimize website content: Create high-quality, informative, and engaging content around the identified keywords. Ensure that the content is optimized with proper keyword placement in titles, headings, meta descriptions, and throughout the body. Optimize images, improve site speed, and make the website mobile-friendly.
3. Create landing pages: Build dedicated landing pages for specific products or services, optimized for target keywords. These pages should have clear and compelling calls to action (CTAs) to encourage lead generation.
4. Implement on-page SEO techniques: Utilize on-page SEO techniques such as optimizing page titles, meta descriptions, headings, URLs, and internal linking. This improves visibility in search engine results pages (SERPs) and helps search engines understand the content on your website.
5. Generate high-quality backlinks: Earn backlinks from authoritative and relevant websites through content creation, outreach, and partnerships. Quality backlinks improve search engine rankings and drive organic traffic.
6. Leverage social media and content marketing: Share optimized content across social media platforms to increase visibility, engagement, and lead generation. Use content marketing strategies to create valuable resources like e-books, whitepapers, and infographics that require users to provide contact information to access, generating leads.
7. Monitor and analyze performance: Regularly track and analyze the performance of SEO efforts and lead generation activities. Set up Google Analytics to measure website traffic, conversions, bounce rates, and other key metrics. Refine strategies based on data to maximize results.
8. Experiment with paid search advertising: Consider utilizing paid search advertising like Google Ads to complement organic SEO efforts. Target specific keywords and demographics to enhance lead generation.
By integrating SEO and lead generation effectively, businesses can improve their online visibility, rank higher in search engines, drive organic traffic, and generate more qualified leads.
Learn More …
10 Proven Strategies to Generate More Leads for Your Website