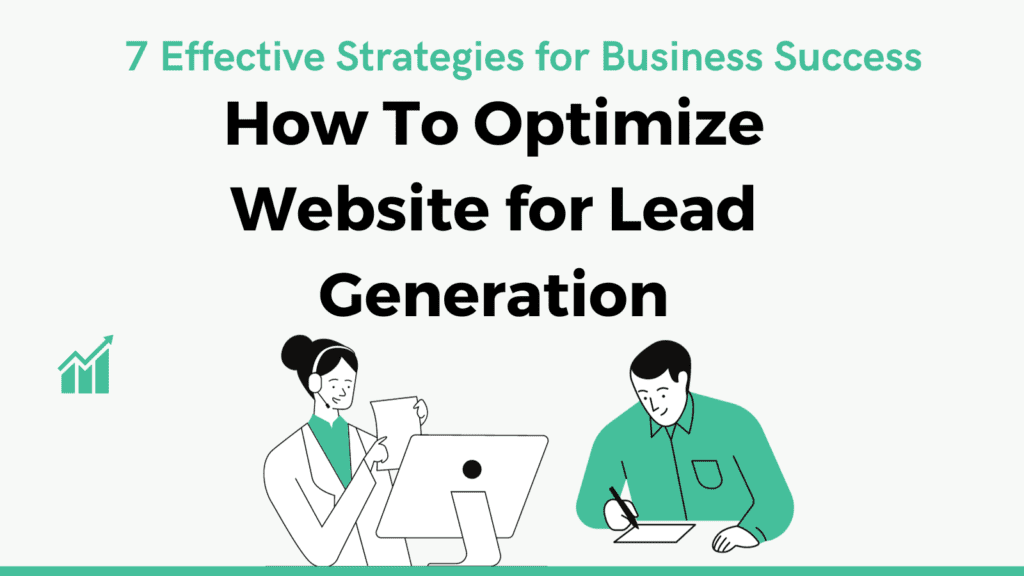 Why it is important to optimize website for lead generation? In today's digitally-driven world, having a well-optimized website is crucial for businesses aiming to attract potential leads. By implementing effective strategies, you can ensure your website not only ranks higher in search engines but also engages and converts visitors into paying customers.
In this blog post, we will explore seven actionable techniques that combine technical prowess with a touch of humanization, to help your business optimize its website and successfully attract potential leads.
1. Utilize Keyword Research to Target and Attract Potential Leads:
A solid foundation in SEO starts with comprehensive keyword research. Identify impactful search terms relevant to your business, products, or services. Optimize your website's copy, meta tags, headings, and URLs to incorporate these keywords naturally.
This way, you can increase your chances of ranking higher in search engine results pages (SERPs) and capture the attention of potential leads actively searching for a solution to their problems.
2. Create High-Quality and User-Focused Content:
Content reigns supreme in the online realm. Develop informative, engaging, and valuable content that addresses your target audience's pain points. Craft blog posts, videos, infographics, and guides that provide actionable insights, establishing your business as a trusted industry authority. This approach humanizes your brand, invites conversation, and encourages visitors to share your content, thus attracting more potential leads.
3. Optimize Website Load Speed for an Enhanced User Experience:
A sluggish website can deter potential leads, leading to higher bounce rates and reduced conversions.
Optimize your site's load speed by compressing images, leveraging caching mechanisms, and minifying JavaScript and CSS files. This not only enhances the user experience but also signals search engines that your website is reliable, resulting in higher search rankings.
4. Implement Responsive Web Design for Mobile Users:
A user-friendly website is paramount for attracting potential leads, especially considering the growing number of mobile users. Employ responsive web design techniques to ensure your website looks and performs flawlessly across various devices and screen sizes.
By offering a seamless experience, you can capture the attention of mobile users and increase the chances of lead conversion.
5. Leverage Social Media Integration for Enhanced Engagement (250 words):
Social media platforms are powerful tools for businesses to engage with potential leads. Integrate social media buttons, allowing visitors to easily share your content across their networks.
Encourage interaction by embedding social media feeds, showcasing reviews and testimonials, and enabling comments. This humanizes your brand and fosters a sense of trust, promoting lead generation.
6. Incorporate Call-to-Actions (CTAs) Strategically:
Directing visitors towards conversion is essential for lead generation. Thoughtfully place clear and compelling CTAs throughout your website to guide potential leads towards the next step in their journey.
Utilize action verbs and create urgency, inspiring users to take action. By integrating CTAs effectively, you can enhance user experience, increase engagement, and improve lead acquisition.
7. Continuously Monitor and Analyze Performance Metrics:
Regularly monitoring and analyzing key performance metrics helps you understand how well your website is attracting and converting leads. Utilize tools like Google Analytics to track metrics such as bounce rate, average time on page, and conversion rate. By identifying and addressing areas of improvement, you can further optimize your website to attract more potential leads and maximize conversions.
Buy Exclusive & Real time SEO and Website Leads
Exclusive Access to Top-Tier SEO And Website Leads! We Promise to Replace Any Subpar Leads – Assured Conversion-Ready SEO Leads Available for Purchase!
Contact Us Now
In summary, Its critical for every online business to optimize website for leads generation, which is a continuous process that requires a delicate balance of strategy and humanization. By employing these seven effective techniques, your business can rise above the competition, establish a memorable online presence, engage potential leads, and ultimately convert them into paying customers.
Keep evolving, adapting, and refining your website optimization efforts to stay ahead in the ever-changing digital landscape. Embrace the power of human connection and consistently deliver value to create a seamless pathway for potential leads to find and choose your business.
Frequently Asked Questions (FAQs) about Website Optimization for Lead Generation
Q1: What is lead generation and why is it important for businesses?
Answer: Lead generation is the process of attracting and converting potential customers. It is crucial for businesses as it helps drive sales and growth by identifying potential clients and converting them into paying customers.
2. Q: How can I optimize website for lead generation?
Answer: To optimize your website for lead generation, focus on creating compelling and targeted content, optimizing landing pages, incorporating clear call-to-actions, utilizing lead capture forms, implementing live chat support, and leveraging social media and email marketing.
3. Q: What role does SEO play in lead generation?
Answer: Search Engine Optimization (SEO) plays a crucial role in lead generation by improving your website's visibility and ranking on search engine result pages. By optimizing your website's content and structure, you can attract more organic traffic and generate quality leads from interested prospects.
4. Q: How can I effectively utilize lead magnets to generate leads?
Answer: Lead magnets are valuable resources or incentives offered to potential customers in exchange for their contact information. To effectively utilize lead magnets, create high-quality content such as e-books, whitepapers, or webinars that address your target audience's pain points and promote them strategically on your website to capture leads.
5. Q: How can I measure the success of my lead generation efforts?
Answer: To measure the success of your lead generation efforts, track metrics such as website traffic, conversion rates, lead-to-customer ratio, and return on investment (ROI). Utilize web analytics tools, set specific goals, and regularly analyze data to identify areas for improvement and optimize your lead generation strategies.
Additional topics: